7th Garden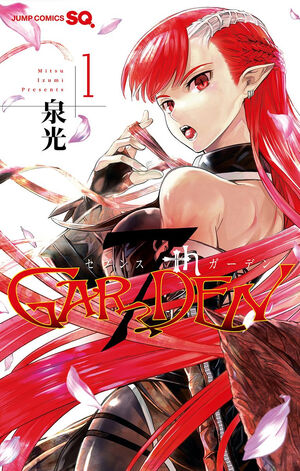 Information
Title:
7thGARDEN セブンスガーデン
Author:
IZUMI Mitsu
Original Run:
August 4, 2014 – Hiatus
Published by:
Jump SQ (Shueisha)
Volumes:
8 (32 Chapters)
Genre:
Action / Fantasy / Shounen
7th Garden
(7thGARDEN セブンスガーデン,
7thGARDEN Sebunsu Gāden
) is a Japanese manga series written and illustrated by Mitsu Izumi.
As a gardener served in a rural manor, Awyn wished nothing more than peaceful days along with his lord's daughter, Marie. One day, he accidentally woke up a demon sleeping in a nearby mountain. What she wished was to have him as a servant before felling the heaven and turn this world into her garden. Awyn, of course, declined the offer. However, not long after that, the town where Awyn is staying was suddenly raided by Knights Templar who are supposed to protect the country. Awyn was then presented with choices: Will he perish along with the garden and his dear ones, or become the demon's servant and have this world perish instead...
In issue 2017-04 of Jump SQ, released on March 4th 2017, the manga was announced to be moving to online distribution, but instead, it went to hiatus as the author's health went bad. No announcements were made as when the manga will return.
Manga Guide
Edit
#
Release date
Volume
1
December 4, 2014
Volume 1

List of Chapters:

2
May 1, 2015
Volume 2

List of chapters:

3
September 4, 2015
Volume 3

List of Chapters

3
December 4, 2015
Volume 4

List of Chapters

5
April 4, 2016
Volume 5

List of Chapters

6
August 4, 2016
Volume 6

List of Chapters

7
December 2, 2016
Volume 7

List of Chapters

8
May 2, 2017
Volume 8

List of Chapters
Chapters not yet in tankōbon format
Edit